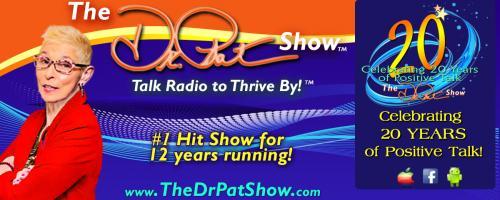 The Dr. Pat Show: Talk Radio to Thrive By!: Breaking the Silence: Why Talking to Girls about Menstruation is Imperative with Tracy Puhl of GladRags and Suzan Hutchinson
04/12/2012 10:30 am PDT
Menstruation has long been considered a taboo subject. But what are the repercussions of NOT talking about our bodies? Shame, fear, and even potentially fatal health issues all can come from a lack of discussion with the young women in our lives.
Dr. Pat Baccili
Dr. Pat Baccili helps individuals and organizations break through their limiting Crust so they can reach their unlimited potential. Her specialty is assisting people face t...
Find out more »
Tracy Puhl
Tracy Puhl is the owner of GladRags, and is passionate about helping women achieve period positivity and lowering their environmental impact. She is also the current Vice Pr...
Find out more »
Suzan Hutchinson
Suzan Hutchinson is a TSS survivor and is the Director of Connectivity for You ARE Loved, a non profit with two missions: to raise awareness about tampon related Toxic Shock...
Find out more »